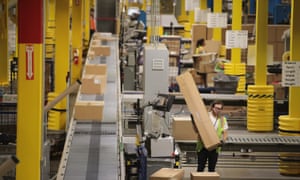 From the article:
Guardian investigation reveals numerous cases of Amazon workers being treated in ways that leave them homeless, unable to work or bereft of income after workplace accidents
Source: Accidents at Amazon: workers left to suffer after warehouse injuries | Technology | The Guardian
At this point, Amazon is no different than Walmart, except that they have a better PR campaign and you can order things without putting on pants and leaving the house.
I've been reading how horrific the Amazon distributions centers are for years.
Radiolab had a podcast titled Brown Box that went over the process.
The nomadic van dwellers often work there as part of Camperforce, where retirees and nomadic full timers can work through the Christmas season to make some cash. The Vandwelling community has been very clear that it's 10-12 hour days for the duration and not much in the way of days off, and you had better be super physically fit because it will crush you otherwise.
Amazon needs to get it's shit together and stop treating people this way.